Product Certification for Egypt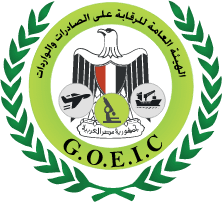 Under the Egyptian Ministry of Industry and Trade it is the General Organization of Export and Imports Control (GOEIC) that regulates the certification requirements for imported goods. 
The objective of GOEIC is to protect Egyptian consumers and the environment through using the latest techniques and procedures to inspect, test and certify products imported into the country.
Further on you will discover the requirements of obtaining the mandatory Certificate of Conformity (COC) required for customs clearance.
GOEIC Certification Process
GOEIC certification covers a wide range of consumer products, including, but not limited to, electrical and electronic devices, textiles, footwear, leather goods and cosmetics (regulated products). Therefore, the Certificate of Conformity must be issued prior to customs clearance.
Egypt Conformity Assessment Process
As a result of coming into force of a Decree of the Egyptian government all companies importing their goods into Egypt must be registered with GOEIC.
1) GOEIC Registration of the brand & factories or product origin
This is a step which cannot be omitted. If the company is not yet registered in GOEIC, the goods cannot be shipped. It's necessary to finalize the registration process first.
Lead time amounts to approximately 1 month following the presentation to GOEIC of a document file duly translated and certified:
Proxy from the Applicant.

Registration Request, which includes list of factories/origins and trademarks.

List of Distribution Centers.

Industrial License/Trade License for the company/factories.

International Trademark Registration Certificate(s), for example, from World Intellectual Property Organization (WIPO).

ISO Certificate for the company. If you are not ISO certified a temporary quality certificate valid for one year can be delivered based on your quality control procedures.
Items 1 – 5 must be legalized from the Egyptian Consulate in your country, then notarized at the Ministry of Foreign Affairs. It is the original documents that are eventually submitted to GOEIC for verification.
Once the GOEIC registration is finalized the next step is Shipment Inspection.
2) Shipment Inspection is a verification of shipment documents performed by an accredited body.
Documents to submit for the inspection:
Commercial Invoice (acceptable in English)

Packing List (acceptable in English)

Test Reports issued by a lab certified ISO 17025. In some cases, factory tests can be accepted to replace testing in the local lab.

Labelling.
3) Finally, before the very shipment it will be necessary to perform a physical/remote inspection which results in inspecting random boxes.
Lead time: appx. half a day/a day based on the quantity of goods shipped.
The Inspection certificate is valid for 1 year.
Labelling & Marking Requirements
Finished goods that are imported for distribution and sale in Egypt must be labeled in Arabic - manufacturer's name, product description and country of origin. Additional requirements apply to the labeling of food products, drugs and textiles. The labelling according to the local Egyptian requirements must be applied to products before import.
How can CCIS assist you?
Being a specialist in performing product conformity assessment procedures to determine whether a product meets all the requirements of Egypt we offer solutions for:
Identification and classification of products to determine the applicable local legislation.

Testing and analyzing your products at the authorized laboratories.

Elaboration and verification of technical documentation including instruction manuals, labels, etc.

Translation of technical documents, drawings, labels, etc. into Arabic