What is CCC certification for China?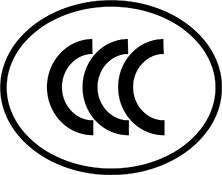 CCC certification is a mandatory safety assessment procedure required for many products imported, sold and manufactured in China. Its main purpose is to ensure that products comply with Chinese health, safety, environmental and national security standards. Officially known as China Mandatory Certification, it is also known as 3C Certification, CCC Mark or just CCC.
The China National Certification and Accreditation Administration (CNCA) coordinates the CCC certification, the mandatory product testing procedure and also the China Compulsory Certification mark. The CNCA is a state-owned body with oversight and policy on conformity assessment. Under its responsibility is the work of the National Accreditation Service for Conformity Assessment (CNAS) which in turn manages the accreditation of certification bodies (CBs) and laboratories/testing centres. Since 2018 the State Administration of Market Regulation (SAMR) controls the operation of government agencies such as CNCA.
CCC Mark for China
Before CCC certified products can be shipped to China, they must obtain the right to apply the CCC (China Compulsory Certification) mark according to Chinese guidelines. The exact regulations of CCC marking are provided by China National Certification and Accreditation Administration (CNCA).
By law, the CCC mark is the main quality and safety mark in China. For products listed in the CCC system catalogue (it is required for 130 types of products), they must have the CCC mark before they can be marketed, imported or manufactured in China. These requirements apply to both imported and domestically produced products. Only Designated Certification Bodies (DCBs) can issue the CCC mark to manufacturers for products within their respective scope.
Product categories requiring CCC certification
The list of products/categories of products that need to be certified before they can be marketed in China is as follows
Electrical cables and wires (often used in heavy industry)

Electrical circuit switches

Low power motors (e.g. in an electric fan)

Power tools

Welding machines (any related device)

Electrical appliances used at home

Video and audio equipment

Computer products (including routers and WLAN cables)

Lighting devices (lamps, lights, spotlights, ...)

Telecommunication equipment (including telephones and all devices involved in internet communication)

Vehicle spare parts

Vehicle tires

Safety glass (for buildings, vehicles, ...)

Agricultural machinery

Latex products

Medical devices

Firefighting equipment

Alarm and intrusion detection systems

Toys (i.e. children's bicycles, electric toys, ...)
Conformity Assessment Process in China
The CCC mark is managed by the Chinese government agency Certification and Accreditation Administration (CNCA). The China Quality Certification Center (CQC) is designated by CNCA to process applications for the CCC mark.
Obtaining the CCC mark involves an application process with the CQC, a designated Chinese certification body. The application process can take 60 to 90 days and cost several thousand Euros. Some companies manage the application process themselves while others choose to rely on consultants based in Europe and China who can manage all aspects of the application process.
The CCC certification process includes the following steps:
Application for certification. Submission of an application for certification and technical documentation including user manuals, CB reports, EMC reports, etc., regulatory labels and other information.
Type Testing. A CNCA-accredited testing laboratory (DTL) in China will test product samples.
Factory inspection. Experts will be sent to audit a factory (factories) that produces and ships products to China. If multiple facilities are used for production, multiple inspections will be required.
Evaluation of certification results and approval. After reviewing and approving the documents submitted in the certification file, the results of the sample tests and the audit report, the CCC certificate is issued, which entitles the certified products to bear the CCC mark.
Follow-up factory inspection. The manufacturing facilities of the product must be re-inspected by the Chinese authorities every 12 to 18 months as part of the continuous monitoring.
The final step of CCC marking is to have the design and application of CCC mark on the products approved by the Chinese testing authorities.
Voluntary certification - CVC, Chinese voluntary certification
In addition to mandatory conformity assessment activities, many products must comply with voluntary/market acceptance requirements before being placed on the Chinese and global markets. For example, products comply with the international conformity assessment standards of the International Organization for Standardization (ISO) and the International Electrotechnical Commission (IEC).
Although many activities are not yet mandated by law, virtually all products must adhere to some type of assessment in order to be accepted by the market. The China Quality Certification Center (CQC) issues many certifications for voluntary conformity assessment. Laws and regulations may refer to so-called "voluntary" standards, making the voluntary standard, in effect, mandatory.
How can CCIS-EXPERTISE help you?
Verification if the product is subject to CCC certification and the choice of the applicable regulations (norms, standards)

Full consultation and assistance in applying for CCC certificate, voluntary certification (CVC, voluntary Chinese certification), negative declaration / written confirmation of CCC

Selection of the certification body and accredited laboratory

Assistance with the application to the responsible Chinese certification body and communication with the Chinese authorities throughout the project

Coordination of the types of testing required in accredited laboratories/testing centres (currently, the testing required for certification is mainly to be performed in China), including coordination of test preparations, organizational assistance for test sample selection.

CCC inspection assistance: preparation-audit including objective-performance comparison, and consultation on the application of regulations, translation and technical assistance, Organization of Chinese inspectors' travelling formalities, interview with Chinese inspectors before, during and after the factory inspection.

Verification of CCC marking

Assistance in maintaining CCC certification status (e.g., annual inspection and supervision or extension of product line and application of changes subject to regulatory approval)

Training on the CCC certification process (via Zoom or face-to-face)

Translation of technical file, drawings etc. into Chinese