Product Certification for UAE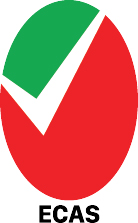 Products being put on the market of the United Arab Emirates and in particular to Dubai must comply with the requirements of the UAE Conformity Assessment System (ECAS) and must generally bear an ECAS conformity mark.
ECAS – the marking for UAE
Before products can be placed on the market or put into service on the market of the United Arab Emirates (UAE), the conformity assessment procedure must be carried out after which an ECAS marking can be affixed to the product. By affixing an Emirates conformity mark (ECAS) the manufacturer affirms compliance of his product with all the applicable legal and technical requirements of ECAS.
The procedure for ECAS application consists of the following steps:
Identify and classify the product in accordance with the UAE product regulations;

Assign a representative based in UAE holding a valid business license;

Submit documents and pay the application fee;

Carry out product sampling and their testing in an accredited lab or determine compliance based on existing test reports;

Application Review by the Ministry of Industry and Advanced Technology (MOIAT)/the Notified Body;

Certification Decision by the Ministry of Industry and Advanced Technology (MOIAT)/Notified Body followed by an issuing of the Certificate of Conformity (1 year validity) if the decision is positive;

Market monitoring.
The description data of products shall include the Emirates conformity mark (ECAS).
How can we help you?
CCIS specializes in product conformity assessment worldwide. We offer the following solutions for product certification in the UAE:
Verification if the product is regulated and thus subject to a technical regulation or non-regulated;

Complete consultation and assistance in applying for product registration for the UAE;

Selection of the notified body and accredited laboratory;

Assistance with the application to the MOIAT and communication with the notified body throughout the project;

Coordination of tests in accredited laboratories/testing centers, including test preparations, organizational assistance for the selection of samples;

Assistance with the audit of the production site (if it is defined by the procedure);

Obtaining certificates of conformity;

Advising on product labeling, and on documents required for issuing certificates of conformity;

Translation of technical file, drawings etc. into Arabic.
What are the costs of ECAS certification?
The costs of ECAS certification depend on the product classification and range, any existing international certifications (e.g. ISO or CE marking), etc. Are you interested in obtaining an ECAS certification? Please feel free to send us a quote request to define the necessary certification procedure.