Product Certification in Turkey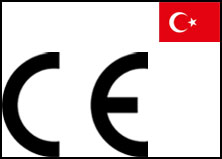 Before putting products on the Turkish market, the manufacturer needs to ensure that they comply with the local Turkish safety requirements. Even though Turkey is not a member of the European Union it has implemented the European New Approach directives (CE marking). All products falling under the European Union (EU) directives would need to conform to the directives to be sold in Turkey.
Conformity marking for Turkey
Turkey allows the free movement of goods carrying the CE mark. The CE mark should be applied to products falling under the requirements of the European Directives. However, there are some products that do not fall under the CE marking regulations. Thus, not all products are required to be CE marked and their compliance with the relevant Turkish product legislation needs to be verified.
For example, food products need to be verified according to the relevant local Turkish standard and tested in one of the laboratories having the authorization of the Ministry of Agriculture and Forestry to be allowed for import into Turkey.
What is CE marking in Turkey?
The standard certification procedure for obtaining the CE marking is divided into several steps presented below:
Checking the application of the EU Directive(s) to your product

Looking up the mandatory requirements (standards) for your product

Determining if the product's conformity assessment needs to be performed by a Notified Body

Assessing product conformity (compliance)

Developing and maintaining the technical certification file

Drawing up the Declaration of Conformity

Affixing the CE mark to your product
How can CCIS assist you?
CCIS specializes in product conformity assessment worldwide. We offer the following solutions for product certification for Turkey:
Verification if the product is subject to CE marking or the local Turkish legislation and choosing the applicable regulations (norms, standards)

Complete consultation and assistance in applying for product registration for Turkey (CE marking or the local Turkish legislation)

Selection of the certification body and accredited laboratory

Assistance with the application to the responsible Turkish certification body and communication with the Turkish authorities throughout the project

Coordination of tests in accredited laboratories/testing centers, including test preparations, organizational assistance for the selection of samples

Assistance with the audit of the production site (if it is defined by the procedure): translation and technical assistance, travelling arrangements for the auditors/inspectors, continuous communication with auditors/inspectors before, during and after the factory inspection.

Assistance in drawing up the Declaration of Conformity (for products falling under the requirements of EU Directives)

Translation of technical file, drawings etc. into Turkish